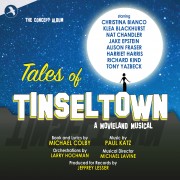 Movieland Musical Tales of Tinseltown and (the complete) madcap Charlotte Sweet will be released on CD this spring. Both feature all-star casts and employ a signature Colby device: each score uses a different musical genre to tell its story. Tales of Tinseltown, which has had several productions uses a 1930s Hollywood movie musical style, and Charlotte Sweet, one of the most acclaimed musicals of 1982 uses British Music Hall turns.
New York, NY, March 22, 2016 (Newswire.com) - ​Michael Colby (The Algonquin Kid) is pleased to announce that JAY Records will release his highly anticipated recordings of TALES OF TINSELTOWN, CHARLOTTE SWEET, and LUDLOW LADD on April 8th. The recordings will be available on Amazon, JAY Records and downloadable on iTunes.
Employing a Colby signature, each musical tells its story using a particular genre: TALES OF TINSELTOWN à la 1930s Hollywood musicals: CHARLOTTE SWEET through British Music Hall turns, LUDLOW LADD through comic Christmas carols.
"WACKY FUN! Suggests Dames at Sea crossed with Carol Burnett's entire oeuvre. Delicious, tuneful, winning."

David C. Nichols, L.A. TIMES
The TALES OF TINSELTOWN concept album has been a long-time dream of Colby and composer Paul Katz. This sardonic 1930s Movieland Musical was described as "WACKY FUN! Suggests Dames at Sea crossed with Carol Burnett's entire oeuvre. Delicious, tuneful, winning," by David C. Nichols of the L.A. TIMES. It features: Christina Bianco (THE MARVELOUS WONDERETTES), Klea Blackhurst (MERMAN'S APPRENTICE), Nat Chandler (SOUTH PACIFIC ), Jake Epstein (BEAUTIFUL, STRAIGHT), two-time Tony Award® nominee Alison Fraser (FIRST DAUGHTER SUITE), Richard Kind (INSIDE OUT), Tony Award® winner Harriet Harris (THOROUGHLY MODERN MILLIE), and Tony Yazbeck (FINDING NEVERLAND). The ensemble includes: Samantha Massell (FIDDLER ON THE ROOF), Nora Menken (THE HUNCHBACK OF NOTRE DAME), Kevin Michael Murphy (If It Only Even Runs a Minute), Ryan Bauer-Walsh (BILLY ELLIOT). JAY Records' John Yap and Emmy Award winner Jeffrey Lesser (whose credits include albums by Barbra Streisand, Joni Mitchell, Lou Reed, and Jason Robert Brown) produced the recording. Michael Lavine is musical director. The lead orchestrator is Tony Award® winner Larry Hochman (BOOK OF MORMON).
JAY Records will reissue the complete CHARLOTTE SWEET. The madcap musical melodrama with a libretto by Colby and music by Gerald Jay Markoe was originally released on vinyl, then in an abbreviated CD version. One of the most acclaimed musicals of 1982, CHARLOTTE SWEET garnered three Drama Desk Award nominations: "Outstanding Music" (Markoe), "Outstanding Lyrics" (Colby), and "Outstanding Actress in a Musical" (Mara Beckerman). At the time the two-LP version was released, it was the only show album ever produced by the legendary John Hammond. Max O. Preeo of Show Music called it "Head over heels above anything around." CHARLOTTE SWEET is about a Circus of (freak) Voices in the Victorian Music Hall, top-lined by a high-voice soprano who becomes addicted to helium balloons. The cast features Mara Beckerman (as "Charlotte"), Lynn Eldredge, Jeff Keller, Timothy Landfield, Merle Louise, Michael McCormick, Polly Pen, and Christopher Seppe.
As a special free bonus for those who order early directly from JAY Records, there will be a limited edition of LUDLOW LADD, the Christmas musical and prequel to CHARLOTTE SWEET. This CD is a private recording made and played by composer Gerald Jay Markoe, using the original cast: Margaret Benczak, Mara Beckerman, Jerry Crow, Spring Fairbank, Charles LaTourette, Beverly Robinson, and Charles Michael Wright. This all-sung, fractured fairy tale was first performed as a staged concert at the Lyric Theatre of New York, which commissioned the show.
All three shows were originally written and rehearsed at the Algonquin Hotel, the setting for Colby's popular memoir, "The Algonquin Kid." The book and his stage presentations of the memoir chronicle the years from 1968 to 1987 when the hotel was owned by Michael's grandparents, Ben and Mary Bodne.
Visit Michael Colby online and read about the shows and his memoir "The Algonquin Kid" at: http://www.michaelcolby.com/
Visit Jay Records: http://www.jayrecords.com/
General Press Representative: Betsyann Faiella, http://SavoyPR.com
Email: bafaiella@savoypr.com
###
Share: