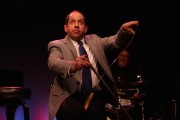 TV and broadway actor Jason Kravits is a wordsmith who recently parodied Hamilton to the delight of Vulture and other culture sites. When he isn't appearing on TV, in shows like Unbreakable Kimmy Schmidt, Madam Secretary and The Blacklist, he's sending up the world of nightclub entertaining in his one man, fully improvisational cabaret called "Off The TOP." Kravits walks this musical high wire act at The Duplex, NYC, on April 11th.
New York, NY, March 21, 2016 (Newswire.com) - A Man. A Band. Completely Unplanned. Jason Kravits Brings His Improvised Cabaret "OFF the TOP" back to the Duplex 4/11
An entire cabaret made up on the spot. Who does that? Actor-writer-musical improviser Jason Kravits (see his spoof of Hamilton: Harrison) – perhaps you've seen him on Unbreakable Kimmy Schmidt, Curb Your Enthusiasm, Madam Secretary – pulls off this neat trick time after time in his hilarious and unpredictable cabaret improv, OFF the TOP, scheduled to return to The Duplex in NYC on April 11th at 7pm. In his musical high-wire act, Jason, assisted by a fearless and agile band, spontaneously creates a character, a life story and an entire evening of original songs, all based on audience suggestions. Showstoppers, character songs, trifles, segues, backstories – Jason makes it all up in real time, off the top of his nimble and slightly demented brain, to the amazement of his audience.
"I have not laughed as much in a cabaret in a very long time. I cannot recommend Jason Kravits highly enough."

Gerry Geddes, Bistro Awards
"I have not laughed as much in a cabaret in a very long time. I cannot recommend Jason Kravits highly enough." – Gerry Geddes, Bistro Awards
The Duplex is at 61 Christopher Street at 7th Avenue. Showtime is 7:00pm, and the cost is $15 dollars in advance or $20 at the door plus service charge. A two-drink minimum applies, and The Duplex admits only those over 21 yrs. To purchase tickets in advance, visit: www.purplepass.com/offthetop411, or http://www.offthetop.nyc/
Jason began improvising cabaret shows a little over a year ago, with a first performance at 54 Below. "Doing this combines many things I love," says Jason, "music, improv, comedy and parody, and it's like a magic trick for the audience in a way." He draws on 30 years of experience on stage and screen including Broadway (The Drowsy Chaperone, Sly Fox and Relatively Speaking) and hundreds of TV appearances including recurring roles on Unbreakable Kimmy Schmidt, Madam Secretary, Smash, The Michael J. Fox Show, Royal Pains, Dallas and a long run on The Practice, as well as memorable appearances on Blindspot, The Blacklist, Curb Your Enthusiasm, Hot in Cleveland, Married, Masters of Sex, Raising Hope, 30 Rock, The Good Wife, Gilmore Girls and Everybody Loves Raymond. His film credits include Chinese Puzzle, The Stepford Wives, Sweet November, Morning Glory, and What Just Happened. As a writer, Jason penned the 10-minute play, Green Eggs and Hamlet, the holiday stories, The Kvetch and A Christmoose Story, as well as the acclaimed web-series Lords of the Playground. In 1999, his two-man sketch show, An Evening with Kravits and Jones, won the Jury Award at the U.S. Comedy Festival in Aspen. He is a founding member of The Rumble in the Red Room writing collective, as well as the improv troupe, Erasable, Inc.
Jason Kravits can be seen on Unbreakable Kimmy Schmidt beginning April 15 on Netflix.
Additional performances of OFF the TOP will be announced soon.​
To visit Jason Kravits online see video and learn more about OFF the Top, visit: http://www.offthetop.nyc/
Press representative for OFF the TOP: Betsyann Faiella, SavoyPR.​ bafaiella@savoypr.com
###
Share: